Making your student house a home can be one of the best parts of moving into your new student accommodation…fresh start, new room and a great excuse to go shopping! Find our top tips below for adding that special touch to your home on a budget…
Let there be light
If you are looking to make your bedroom extra cosy then string lights are a perfect (and cheap!) addition to your home ware basket. We have seen many rooms completely transformed with fairy lights and they don't have to break the bank.
The Range offer a vast selection of affordable lighting such as this LED letter to personalise and light up your room! Or how about these peg string lights that can display all of your photos, study notes and keepsakes all in one stylish arrangement.
2. Bringing the Outside in
In our opinion, there is no better way to brighten a space than to fill your home with greenery. Don't get us wrong, we are no stranger to accidentally killing the odd plant here and there! However, there are plenty of great quality fake plants available for a reasonable price.
Why not try a £3.00 potted plant from Ikea if you fancy your go at gardening! Alternatively, Ikea have a large range of artificial plants available like this one that can just be added to your chosen pot. We use these as décor in many of our properties and they really can transform a room…
3. Faux Fur all the Way
There isn't anything that screams cosy night in more than faux fur. Cushions, rugs, throws…we can't get enough!
We recently decorated one of our living rooms with these £10.00 double sided fluffy cushions from Matalan and teamed them with a grey throw and pale pink cushions for a super stylish and comfy settee arrangement.
Ikea also do a super fluffy rug for only £10.00 – perfect for the floor or to hang over your desk chair!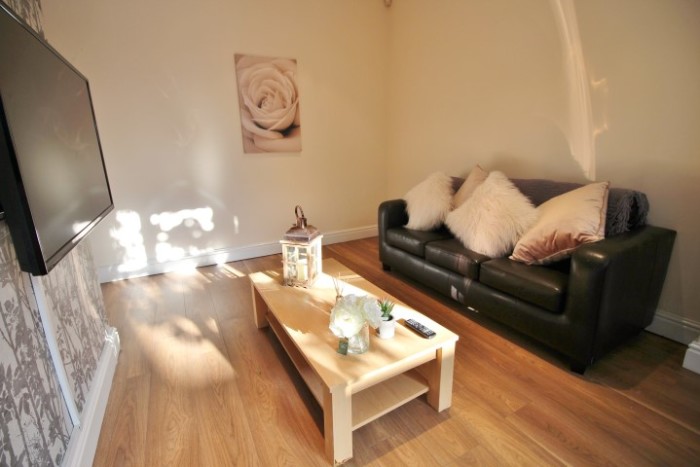 4. Snap Happy
Bring all of your family and friends with you to university in the form of lots and lots of photographs – they will make your bedroom feel so much more personal and will make you feel just at home.
You can purchase frames from many high street retailers but can also find great ideas on online retailers. Take a look at this gallery style poster where you can use your own Instagram photographs to create a personalised print. We love how these look and it's only £14.70!
There is nothing worse than a silent house. If your housemates are all out, you're studying or you need a small distraction, why not treat yourself to a cool new radio to brighten your day. They are the perfect addition to any room to provide a bit of background noise or even as a decorative piece.
This retro radio from Curry's is bound to catch your eye. It comes in multiple colours and can run from the mains or battery so you can even take this on the go.
Saving on space is a necessity in student accommodation, but it doesn't mean that you can't store in style!
Check out this beautiful wicker trunk from Tk Maxx, perfect paired with a faux fur rug. Or how about this wooden crate which would look great in the kitchen or bathroom of your new home. These boxes are the best way to hide clutter and keep yourself organised.